REQUEST A QUOTE
by emailing info@jkccprints.com
To start the process please visit our Apparel Page to review garments that we have available. Garment Pricing is in addition to Screen Printing.
The website contains garment prices only, printing is additional, which you can review below.
Screen Print Pricing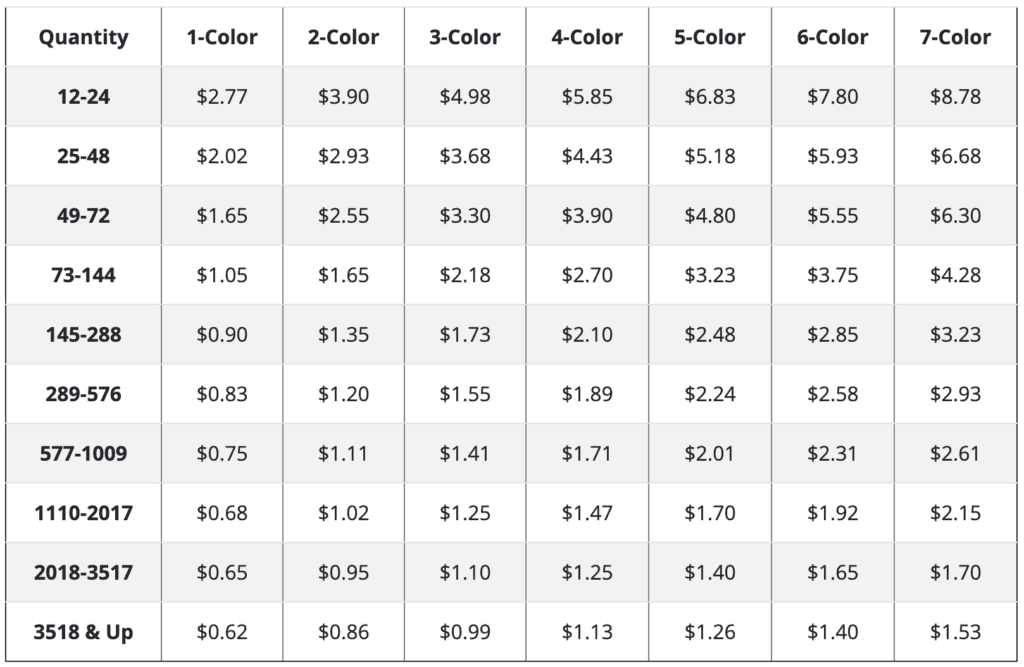 *Specialty Inks
Color Matching: Every effort is made to match PMS colors as close as possible at no extra cost. If EXACT color match is required, please call for pricing.
*Additional Print Locations
Sleeve, side or leg add $0.70
Above Pocket add $1.00
On pocket add $2.00
Performance wear – $0.70/location
Screens
$40 per screen (12″W x 14″T max)
$20 per screen on reorders
$20 per Color change
(24-piece minimun per color change)
Handling
Drop Ship – per carton $7.50
Un-bagging vendor garments $0.15 (included in print price)
Splitting vendor garments – $25/per hour
*In addition to standard print prices.
**All artwork should be sent as a separated vector format (i.e. svg, eps, ai, cdr). If compatible artwork cannot be sent a $60/hour art work fee will be charged. Minimum charge of one hour. **All orders will be folded in printer's dozen for shipment.
**Different products (i.e. shirts and jackets) will be priced as separate orders.
**Changes in imprint size are considered new orders.
**Product proof provided at NO CHARGE of 500 units or more.
If proof is requested for less than 500, additional cost is $20 per location + $10 per screen set-up
**Industry standard of 2% spoilage per print location for orders of 24 quantity of more.
December 2019 –
PRICES SUBJECT TO CHANGE WITHOUT NOTICE